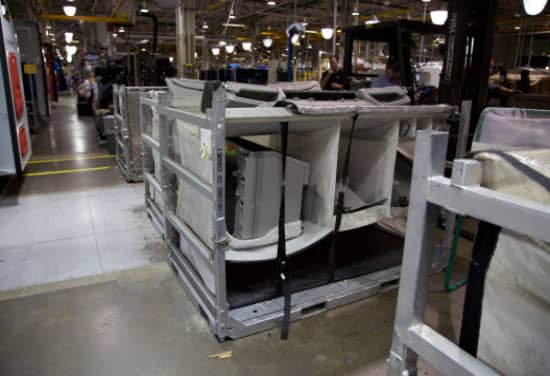 Fabric dunnage suppliers support supply chains in the automotive, heavy truck, power sports, and aerospace industries. Sourcing managers want sewn fabric dunnage that's cost-effective, but the cheapest parts bags aren't necessarily the best choice. For reusable packaging that meets all of your company's needs, vendor selection is critical. By choosing a fabric dunnage supplier with the right core values, you can minimize risk and maximize return-on-investment (ROI).
For nearly 40 years, Hold-True has supplied sewn fabric solutions that strengthen supply chains. Today, the core of our business is rack bag design and production. Here at our Made in the USA manufacturing facility in Mansfield, Ohio, our company is built on six core values: quality, integrity, design, responsibility, adaptability, and responsiveness. When you choose Hold-True as your fabric dunnage supplier, you'll find that these core values are "sewn in" to every solution that we provide.
Quality
At Hold-True, we understand that the quality our last product is what defines our reputation. That's why all of our design and manufacturing decisions reflect a commitment not just to quality, but to continuous improvement. Ultimately, every member of the Hold-True team is responsible for your satisfaction. If the pockets on a work-in-process bags seem like they'll sag, we'll suggest the appropriate modifications. 
Integrity
Hold-True values long-term business relationships. We prize integrity and appreciate that trust is earned. If there are design or manufacturing issues that don't meet your expectations, we'll take ownership of them. The integrity with which we run our business extends to how members of our team treat each other. The result is a company that's focused on building partnerships and meeting your needs.
Design
Custom packaging can require out-of-the-box thinking. Just because something hasn't been done before doesn't mean it can't work now. By leveraging every resource, Hold-True questions assumptions and develops novel solutions. Understanding rack bag materials and processes is important, but our focus is your success.
Responsibility
Members of the Hold-True team understand that we're responsible not just for individual tasks, but for final products. We know that our success depends upon your success, and will do all that we can to support your mission. By seeing the details along with the big picture, we can keep a clear view of what you really need. That includes sewn fabric dunnage costs.
Adaptability
Hold-True is ready for changes to your requests for sewn fabric dunnage. We're also ready to make adjustments to current processes to account for changes in the marketplace, or to better meet your company's needs – such as rack bags that are easier to clean. By building adaptability into in all that we do, Hold-True helps keep your supply chain flexible.
Responsiveness
Finally, Hold-True appreciates that the sewn fabric dunnage you source from us may be the last thing that you need for larger, urgent projects. That's why we strive to respond quickly and accurately to all of your communications. To learn how the right fabric dunnage supplier can strengthen your supply chain, please contact us.