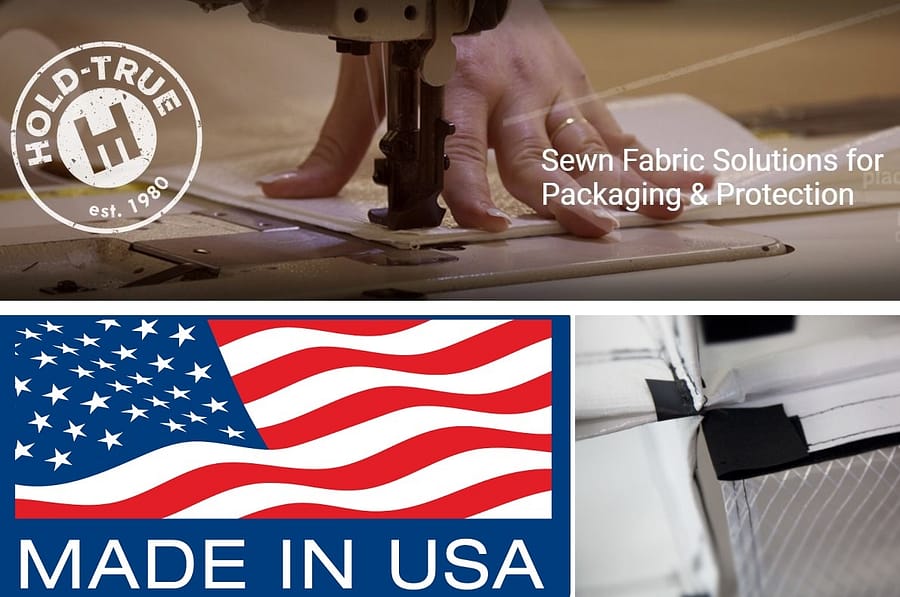 Made in USA fabric dunnage supports good-paying jobs in the automotive, heavy truck, power sports, and aerospace industries. American-made rack bags also help U.S. companies compete with foreign firms in terms of worker productivity, assembly line efficiency, and product quality. By strengthening industrial supply chains, sewn fabric dunnage that's Made in America can support reshoring efforts, too.
Here in Ohio, the heart of a region that some call the "Rust Belt", Hold-True has been manufacturing sewn fabric products since 1980. In addition to rack bags for packaging and assembly, we make soft case goods, strap and webbing assemblies, tarps and equipment covers, textile fixtures, and OEM components. All of our sewn products are proudly Made in the USA and designed to meet your specific needs.
Meet Lonnie and Carol Browne
When you choose Made in USA fabric dunnage from Hold-True, you're not just picking a product. You're building a relationship with people you can trust. Lonnie Brown, Hold-True's CEO, served his country in the United States Marine Corps. The work ethic, discipline, and principles that Lonnie developed during his four years with the Marines make him an exceptional leader today.
Carol Browne, Lonnie's wife, is much more than a co-founder and co-owner. Carol manages the design of sewn fabric dunnage like the rack bags and work-in-process bags (WIP bags) that so many of our customers depend upon. Her pattern making and prototyping skills reach back to her childhood and are informed by her years as an industrial seamstress and work for a manufacturer of custom covers.
American Know-How
Other companies supply reusable packaging, but Made in the USA fabric dunnage from Hold-True is about American know-how. During the rack bag design process, we don't just look at your digital files. Through hands-on design work, we determine how your parts will lay and if the parts bag will lean. We can even tell you if the pockets on WIP bags will sag, or if your rack bag design would be difficult to load or unload.
Hold-True's know-how doesn't end there. Because we understand how fabric dunnage is sewn, shipped, and used, we can help you to control fabric dunnage costs through better material selection. We can also suggest ways to reduce your sewn fabric dunnage costs in terms of cleaning and maintenance. Quality and cost are important, but you'll find we're a responsive and adaptive fabric dunnage supplier, too.
Choose Made in USA Fabric Dunnage from Hold-True
As the Hold-True family reflects on Memorial Day, we remember America's fallen heroes and salute all U.S. service members. Our company will be closed for the holiday so that we can spend time with our loved ones, but we invite you to join the Hold-True family when you need sewn fabric solutions. For Made in the USA sewn fabric dunnage you can trust, contact Hold-True.