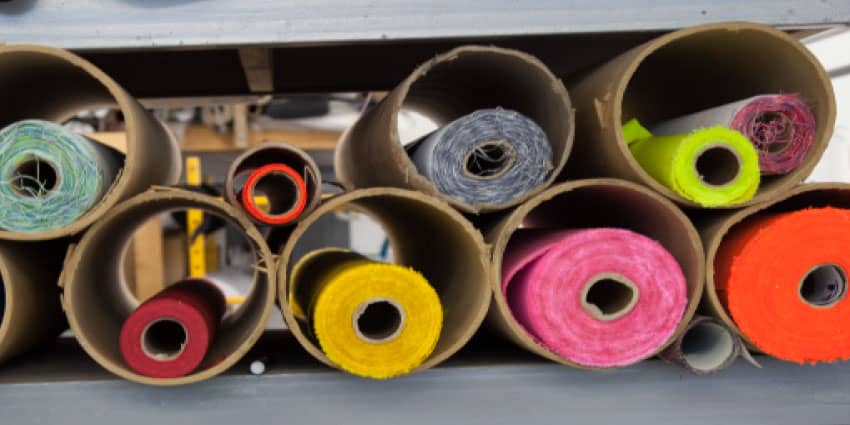 Reusable packaging costs include thread selection for sewn fabric dunnage. Lower-cost threads may seem like a bargain, but using thread that's too thin and too weak can cause sewn fabric dunnage seams to fail. Rack bag threads that can't withstand the loading or unloading of parts aren't cost-effective. For the best return on investment (ROI), it's important to account for all your application's requirements.
For example, threads that won't withstand water or sunlight aren't a good choice for sewn fabric dunnage that's stored outdoors. Threads that don't support cleaning can muddy your true costs, too. Choosing the right rack bag thread is just one of many design considerations, but packaging engineers need to pay close attention to material selection to avoid problems like pockets that sag and seams that tear.
Thread Types and Coatings
Threads for sewn fabric dunnage can be made of Kevlar, nylon, polyester, or cotton.
Kevlar thread is significantly stronger than nylon or polyester.
Nylon thread is fine for general-purpose use, but it can't withstand prolonged exposure to ultraviolet (UV) light from the sun.
Polyester thread looks like nylon, but has better sunlight and moisture resistance.
Cotton thread is soft and durable, but it's not as strong as polyester. Plus, cotton thread will rot in the elements.
Thread coatings can increase your reusable packaging costs, but these substances impart properties that can improve thread life and performance. For example, polyester and nylon threads that are bonded have a smooth, protective coating that strengthens the thread and makes it less abrasive. To reduce friction during winding, polyester threads can be treated with a lubricant.
Thread Colors and Age
Most rack back threads are either white or black in color. These colors tend to differ in age.
White threads tend to be newer because they're sold as they are, or dyed different colors to meet customer demand.
Black threads tend to be older because some thread manufacturers re-dye their old, unsold colored thread so that it's black.
Dying older threads black saves the thread supplier money, but may cost the packaging user in the long run. Unlike wine, rack bag threads don't improve with age. Rather, older threads tend to be weaker.
Reusable Packaging Costs and Quality Sewn Fabric Dunnage
Hold-True, a Made in the USA manufacturer of reusable packaging, can help you to select the right threads for sewn fabric dunnage. For example, the threads we recommend are treated with a UV inhibitor to reduce damage from sunlight and prevent fading or spotting in the thread color. Importantly, we only buy thread from supplier who don't re-dye old, colored thread. High-quality thread may cost more, but rack bags that last save you money in the long run.
To learn more about us and how we can help you, contact Hold-True.